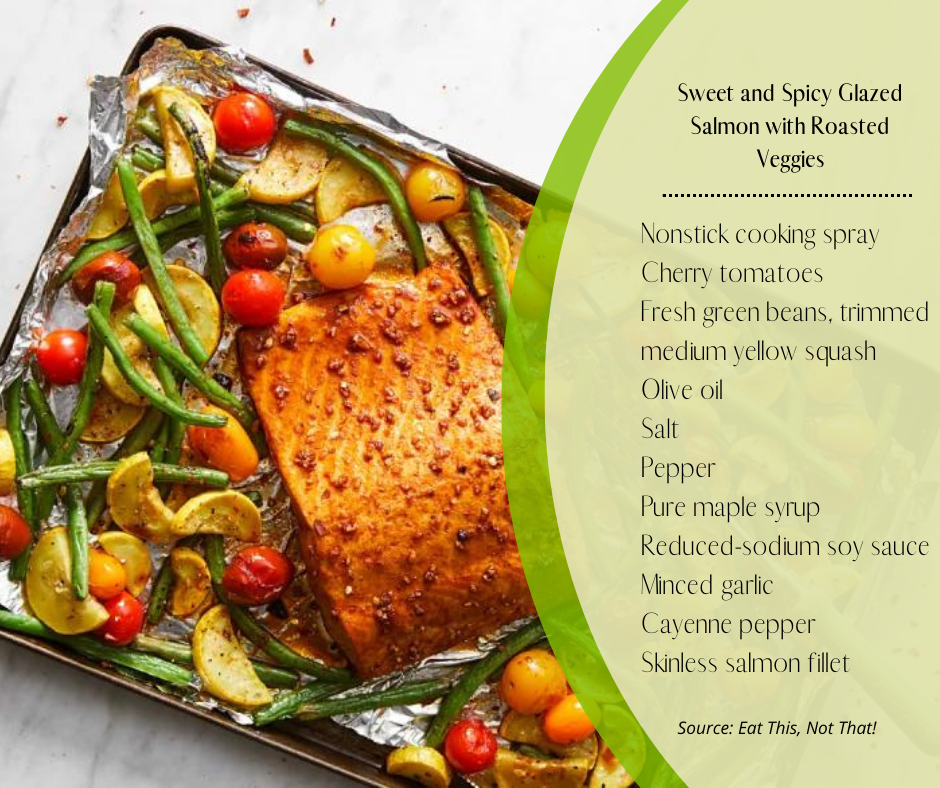 How To Make It:
Preheat oven to 425°F. Line a 15×10-inch baking pan with foil. Coat foil with cooking spray.
Place tomatoes, green beans, and squash in the prepared baking pan. Drizzle with oil and sprinkle with salt and pepper. Stir to coat. Arrange in an even layer on the pan. Roast 10 minutes.
Meanwhile, in a small bowl whisk together maple syrup, soy sauce, garlic, and cayenne pepper.
Push vegetables to one side of the baking pan. Place salmon on other side of pan. Brush with the maple syrup mixture. Roast 10 to 15 minutes more or until fish flakes easily (145°F) and vegetables are tender.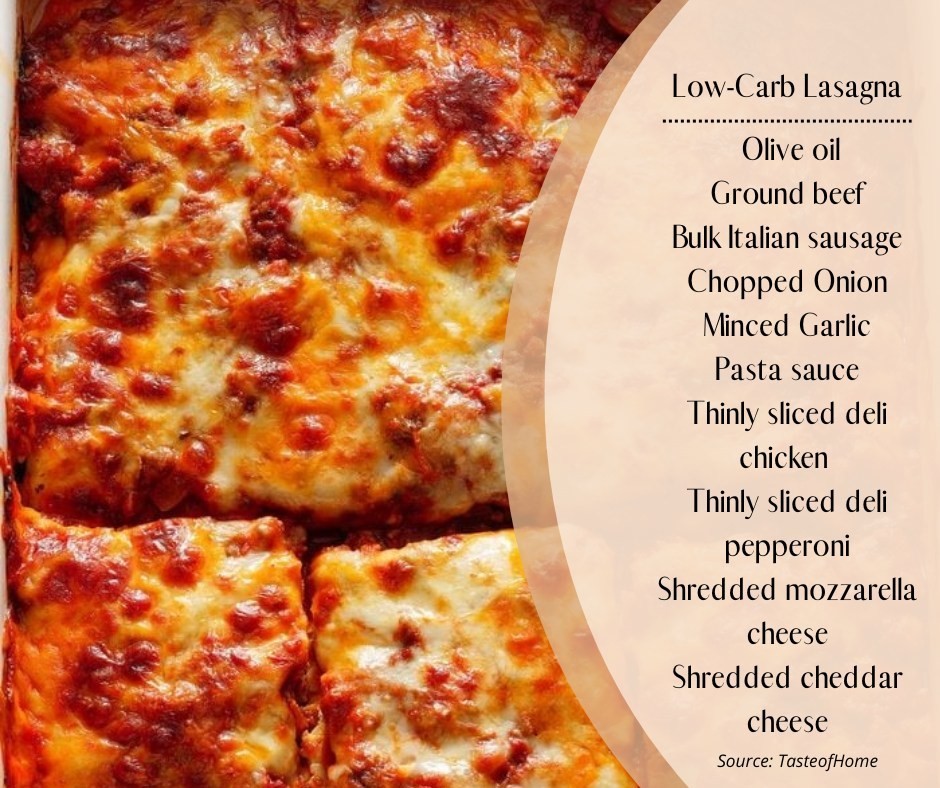 How To Make It:
Preheat oven to 425°. In a large skillet heat oil over medium heat. Cook beef, sausage, onion and garlic until meat is no longer pink, 6-8 minutes, breaking it into crumbles; drain, return to pan. Stir in pasta sauce; heat through.
Spread 1 cup sauce into a greased 13×9-in. baking dish. Layer with half the sliced chicken, half the sliced pepperoni, 2 cups sauce and half of each cheese. Repeat layers.
Bake, covered, 25 minutes. Uncover; bake until cheese is browned and lasagna is bubbling, 20-25 minutes longer. Let stand 15 minutes before serving.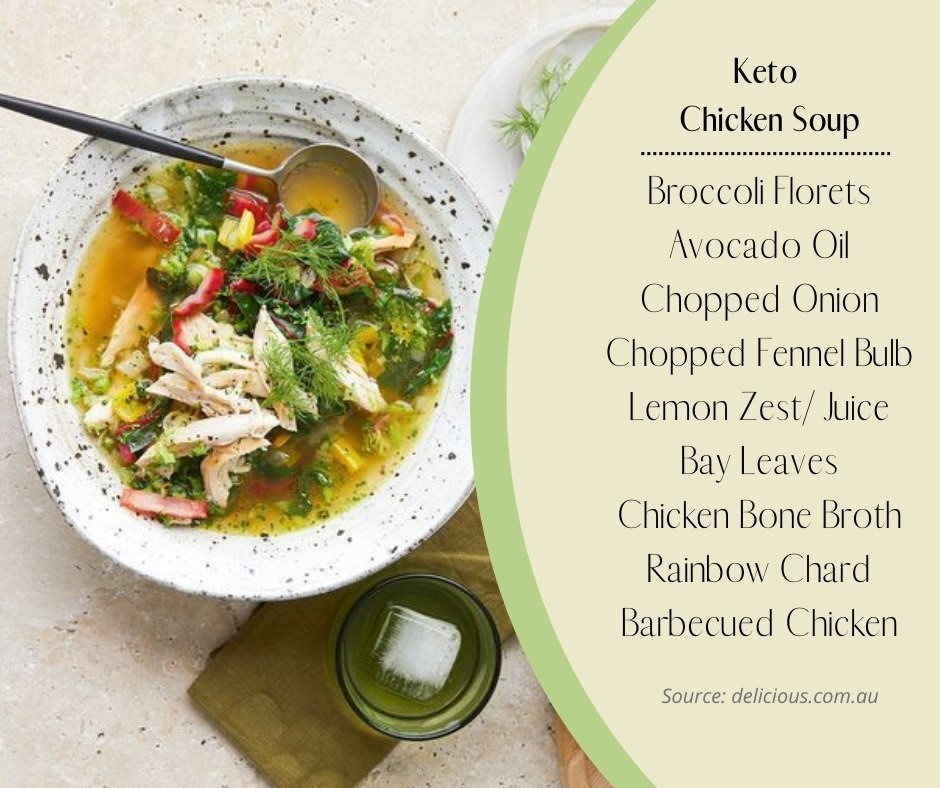 How To Make It:
Pulse broccoli florets in a large food processor until rice-sized pieces form, scraping the sides of the bowl as required.
Heat oil in a large saucepan over medium heat, add onion, fennel, garlic, lemon zest and bay and cook for 5 minutes or until soft. Add broth, turn up heat, bring to the boil and cook for 2 minutes to allow flavours to develop. Add chard stems and leaves, bring back to the boil for a minute or until leaves are just wilted, then add chicken and broccoli rice and cook for 1-2 minutes until chicken is warmed through and broccoli rice is just tender. Take off heat, stir in lemon juice and check seasoning. Serve with lemon wedges.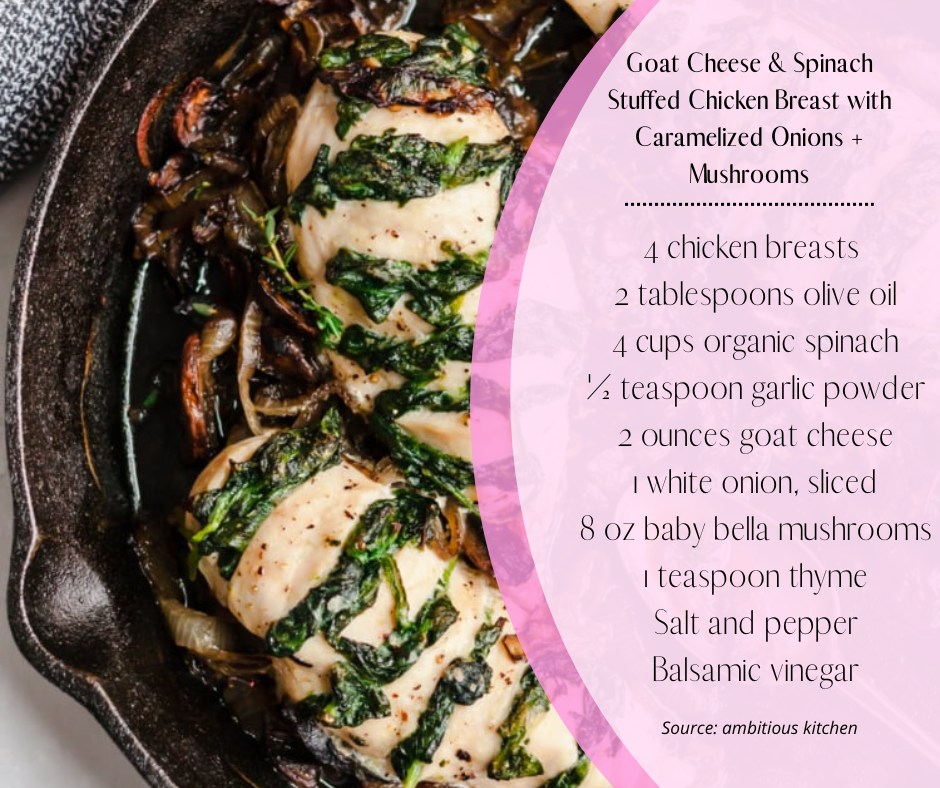 How To Make It:
Preheat oven to 375 degrees F. Use a sharp knife to hasselback each chicken breast, and cut 6 slits into the top of each breast, making sure you don't cut all the way through to the bottom of the chicken breast. Drizzle each chicken breast with a little olive oil then season with salt and pepper. Set aside.
Place a large ovenproof skillet over medium high heat and add in ½ tablespoon of olive oil. Add in spinach and season with garlic powder. Cook, stirring occasionally until spinach is fully wilted.
Transfer cooked spinach to a medium bowl and add in goat cheese. Stir until well combined. Stuff each slit with the spinach/goat cheese mixture.
Next add a 1 tablespoon of olive oil to the same skillet. Add in sliced onions, mushrooms, fresh thyme, optional balsamic vinegar and season with a little salt and pepper. Saute until onions begin to caramelize and mushrooms turn golden brown. Make room for the chicken by moving the mushrooms and onions to the sides of the skillet.
Add chicken to the skillet, making sure there is a little bit of room between each chicken breast; you may need to rearrange the mushrooms and onions. Transfer to oven and bake for 20-30 minutes until the chicken is fully cooked and meat thermometer reads 165 degrees F. Serves 4.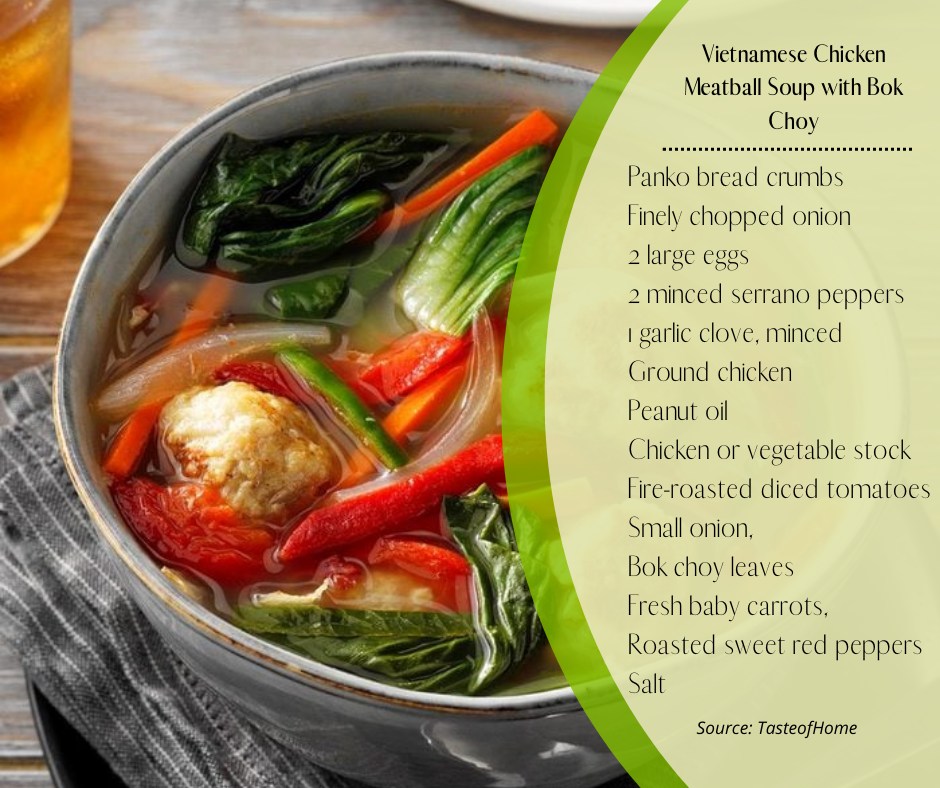 How To Make It:
In a large bowl, combine the first 5 ingredients. Add chicken; mix lightly but thoroughly. Shape into 3/4-in. balls. In a large skillet, heat oil over medium heat. Brown meatballs in batches; drain. Transfer to a 4- or 5-qt. slow cooker.
Add stock, tomatoes, onion, bok choy, carrots, red peppers, julienned serrano peppers, garlic and salt. Cook, covered, on low 6-8 hours or until meatballs are cooked through and vegetables are tender. If desired, stir in panko. Without stirring, drizzle beaten egg into slow cooker. Let stand until egg is set, 2-3 minutes.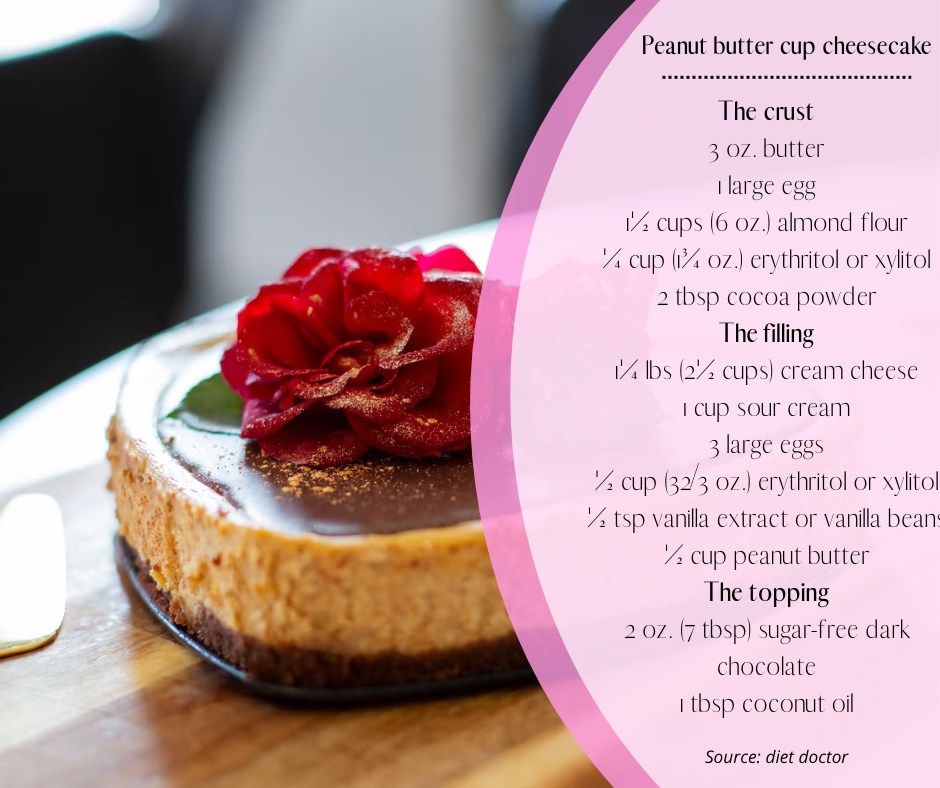 How To Make It:
Chocolate crust
Preheat oven to 300°F (150°C) using the convection setting.
Melt the butter and mix with all the other ingredients for the crust in a medium-sized bowl.
Spread the mixture in the bottom of a 9″ (23 cm) springform pan.
Bake for 10 minutes, remove and let cool at room temperature.
Peanut butter filling
Increase oven temperature to 400°F (200°C) using the convection setting.
Mix cream cheese softened at room temperature, sour cream and eggs until smooth. Add sweetener, vanilla extract, peanut butter and mix until incorporated.
Pour the filling over the bottom and tap the form gently against the counter to get rid of any air bubbles.
Bake the cheesecake for 10 minutes. Lower the temperature to 200°F (100°C) and keep baking for 25 minutes more. The cake should be wobbly but not liquid when shaking it gently.
Turn off the oven but leave the cake in there with the door open for 2 hours.
The topping
Melt the dark chocolate and coconut oil in the microwave in 20 second intervals. Stir to combine. You can also use a double-boiler for this step.
Pour the mixture over the cheesecake and place in the fridge for at least two hours to allow the cheesecake and chocolate to set completely.
If you feel like garnishing the cake like we did you can use fresh flowers and edible gold dust. Make sure to use flowers that are safe to use in contact with food.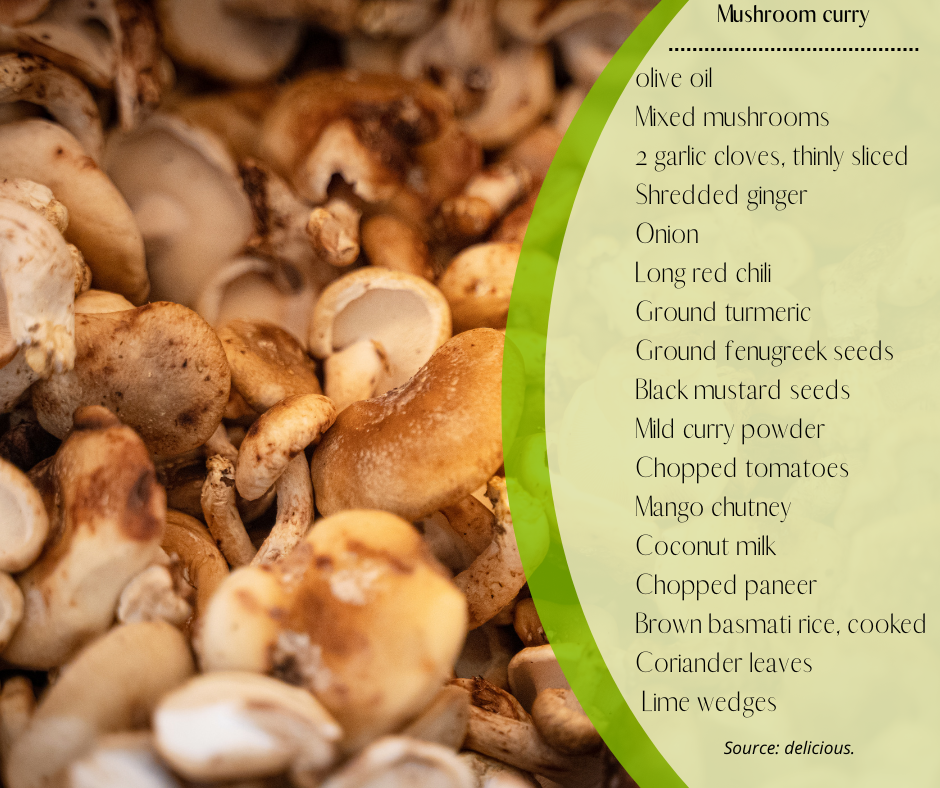 How To Make It:
Preheat the oven to 200°C.
Heat half the oil in a large flameproof casserole over medium heat. Add mushroom and cook for 5-8 minutes or until softened and golden. Add remaining 1 tbs oil, then garlic, ginger, onion, chilli and spices. Cook for a further 2 minutes, stirring continuously, or until the spices are toasted and fragrant, and the onion has softened. Add the tomato, mango chutney and coconut milk, and stir to combine. Season. Bring to a simmer, then scatter over paneer.
Transfer to the oven and cook for 30 minutes or until the paneer is a golden color and the curry has thickened slightly.
Serve the curry with rice, coriander leaves and lime wedges.